" ........Pure logic controls were historically implemented by electricians with networks of relays, and designed with a notation called ladder logic. Nowadays, most such systems are constructed with programmable logic controllers.
Logic controllers usually respond to switches or photoelectric cells, and cause the machinery to perform some operation. Logic systems
PureLogic Controls Limited is a control system design and software house with a background in material handling and burner control systems.
PureLogic Controls Limited works in partnership with conveyor manufacturers and system designers, writing and commissioning a PLC based control system that meets or exceeds the clients requirements.
We have extensive experience in a wide range of programmable logic controllers (PLCs) from many different manufacturers and a vast array of auxiliary equipment required to make a control system work for the client.
PLCs
Siemens Simatic (S5, S7-200, S7-300, S7-400)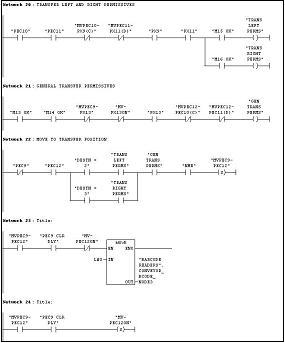 Allen Bradley (MicroLogix, ControlLogix, PLC5, SLC500)
Mitsubishi (FX, Q, A-series)
Pilz, Telemecanique, Omron
Ge-Fanuc, Square D, Toshiba
Gould/Modicon, Hitachi ...... etc
Barcode Readers SCADA systems
DataLogic Wonderware Intouch
Erwin Sick Siemens Win CC
Weighscales, Label printers,
HMIs, Text displays
Light barriers & Safety systems
Networking